Across the internet, i've picked up on the vibe from gamers that they're not very much in favour of advertizing overtaking their in game experience with ads and product placement. Titles that have supported such have been typically shot down for such (just incase they were otherwise flawless?), but maybe one game has cracked, in a very different way…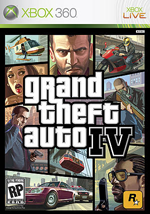 …It's the game everyone's been talking about, Grand Theft Auto, which has firmly taken over not only the charts, and minds of seemingly all men aged 12 – 25, but sold a few records too? Grand Theft Auto has always had an interesting mix, when it comes to it's in-game audio, and GTA IV is no exception. Some might argue the in-game line-up may offer more clout than normal and I would be one to agree. I have no complaints, driving along to Nas, Ne-Yo, Fat Joe, KanYe West, R. Kelly, infact I was quite overjoyed, but it appears Rockstar, as ever, have taken things a little further…
Whilst you're bound to hear tracks suiting to anyone's taste, it left me wondering, how many people might actually go out and buy some of the tracks heard whilst tearing up Liberty City?
Well… It might be strengthened by the partnership made with both Rockstar and Amazon MP3, in selling tracks featured on it's in-game stations, in a digital, DRM free medium. This is further strengthened by the in-game 'Track ID' feature, 'Zit' which allows you to be sent an ingame SMS of the currently playing song in your vehicle. Not only are you sent an SMS in-game, but also your 'Zit' is logged on Rockstar's SocialClub (This is where Amazon MP3 comes into play). Unfortunately, Amazon MP3 isn't availiable to try out in the UK, so I am not quite sure how well this has faired for the content featured inside GTA IV. I have, however been a sucker for some of the music in-game, in finally picking up KanYe West's 'Graduation'. I was swayed by constantly hoping Beat 102.7 would stick on KanYe's 'Flashing Lights' one more time.
Of course, I had to revert to using iTunes to acquire the song, and subsequently the whole album (£4.99 isn't too hard to swallow?), but it did leave a little pointer indeed. As far as I am aware (and believe it or not, I can be wrong…) 'Flashing Lights' was never released, yet iTunes is displaying it as being in the top 100 most popular singles for this week. If that's the case, is it any coincidence, this pretty much coincides with the release of GTA IV? It would be interesting to see how tracks featured in GTA IV have faired in terms of popularity, since the release of the game on services such as iTunes.
One thing is clear though, there are methods to bring in e-commerce through gaming, if it's done in a pleasurable, tasteful manner where the gamer doesn't feel like they're being constantly pitched to…